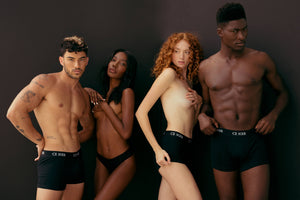 Ridiculously Comfortable Underwear
ABOUT US
Ce Soir, meaning "tonight" in French was created to combine sexiness and comfort to provide the perfect everyday intimates. Our founder was inspired to design luxury women's underwear when she noticed none of her underwear fit correctly and majority of the lingerie she owned was designed by men. This realization snow-balled into endless trial and error sampling, expanding our
gussets, and keeping real bodies in mind (not just mannequins). While brainstorming women's, we were captivated by the demand for staple undergarments across all genders, colors, shapes, and sizes. We are constantly innovating to keep our customers satisfied. Our number one priority is to make everyone feel comfortable in their second skin.
Sexy and Ridiculously Comfortable Intimates
Our #1 priority is to make every body feel sexy in their second skin. Undergarments so comfortable, you won't want to take them off.
Made With Sustainable Bamboo Fiber Gussets
A light and natural fiber that wicks moisture away from skin and allows your intimate areas to breathe. A wider and longer gusset for maximum comfort.
Made For Every Body
Designed to feel irresistibly comfortable on all body shapes.